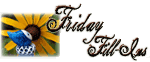 1. Paisley Prints, I love!
2. The Cat in the Hat is one of DS' favorite stories.
3. Where is the
olbas oil
supplier online?
4. Is it really, the end?
5. Sometimes, less is Really More.
6. Hey, it's a Grey Poupon.
7. And as for the weekend, tonight I'm looking forward to Movie nights with my boys, tomorrow my plans include grocery-shopping and Sunday, I want to finish my little surprise for DH's birthday!