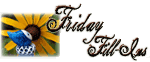 And...here we go!
1. Right now I'm ready to cook breakfast.
2. OMG is my well known quirk.
3. Are you ready for the weekend?
4. Lemon with lukewarm water first, then coffee or tea!
5. That's why and how I lost weight hee hee.
6. PLL is one of my favorite tv shows ever!
7. And as for the weekend, tonight I'm looking forward to sleeping in after researching on
deals at www.rentakneewalker.com
, tomorrow my plans include a visit to the nearest Farmer's Market and Sunday, I want to Run!