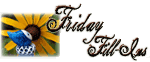 And...here we go!
1. Right now I'm catching up on my blogs.
2. My own way of smirking is my well known quirk.
3. Are you productive?
4. Work hard first, then play harder!
5. That's why i love my job.
6. Gossip Girl is one of my favorite tv shows ever!
7. And as for the weekend, tonight I'm looking forward to organizing my photos, tomorrow my plans include decluttering and checking out the
best roof cleaner reviews
and Sunday, I want to post some stuff online for sale!