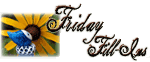 And...here we go!
1. In New England, there's a huge snow blizzard.
2. I see LOTS of snow in the news tonight and some hospital emergencies, hence this particular
medical exam table
was flashed on screen.
3. Ahhhh, TGIF.
4. Zumba is my favorite thing to do nowadays.
5. Last night, I had a dream about my neighbor/friend, it's bad, yikes.
6. TED movie is the perfect way to end the weekend.
7. And as for the weekend, tonight I'm looking forward to snuggling with my boys, tomorrow my plans include prepare for CNY and Sunday, I want to catch up on some sleep!