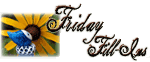 1. It's always nice when have everything in order!
2. I like to hear good news.
3. Positive vibes in; negative vibes out!
4. This is THE LIFE!
5. What I heard does not matter.
6. Often, I search for something really unique.
7. And as for the weekend, tonight I'm looking forward to preparing a surprise for DH, tomorrow my plans include running another 5k and Sunday, I want to to attend the 7:00 am mass and hoping I get to sit in the 1st
church chair
!