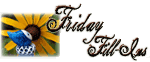 And...here we go!
1. Ah, me...can't wait for this week to be over and spend quality time with my boys.
2. What to cook is what's on my mind most lately. (hahahaha!)
3. When I talk to my best friend, _____.
4. Regular exercise and food portion control is what's working for me lately. (7 lbs down the drain yahoo!)
5. I recently saw an old friend wearing her fabulous
silver jewelry
in the beach, what fun!
6. My almost 7-yr old boy fills me with joy!
7. And as for the weekend, tonight I'm looking forward to food bingeing with my boys while watching a movie, tomorrow my plans include tag along with hubby's mini-business trip and Sunday, I want to try out this new Vietnamese resto in town!