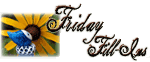 And...here we go!
1. As you can see, I do not know anything about
cigar brands
.
2. Black Friday, soon!
3. I love to buy holiday presents!
4. Surprise gift(s).
5. What's up with our Turkey.
6. Ready to click some checkout button fingertips.
7. And as for the weekend, tonight I'm looking forward to Shop till I drop, tomorrow my plans include sleep and Sunday, I want to Give Thanks!