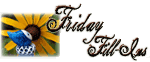 And...here we go!
1. Pardon me, but what was your point?
2. Deal or no deal, it was still a good deal.
3. I was surprised to find that I really like exotic dishes.
4. Theatre play is one of my favorite forms of entertainment.
5. Hi, my name is E and I'm Mind Bubbles.
6. Breezy summer afternoons.
7. And as for the weekend, tonight I'm looking forward to checking medical courses including,
bsn online
, tomorrow my plans include running while my son goes to Soccer and Sunday, I want to celebrate my son's 6th birthday!